Farview Farm Vineyard wines
In 1978 we introduced the first Farview Farm Vineyard wine, a crisp and totally dry Blanc de Noir pressed from Zinfandel grapes grown in Templeton, California. Yes, thirty years ago a serious dry white Zinfandel.

For 2010 we are reprising the original Farview Farm Vineyard label to facillitate our curiosity about what we call, "what if ?" wines. Wines for which we have a facination that we may or may not repeat. You may wish to come along with us on this journey.
Point Blanc was co-fermented in European oak barrels using the excellent Marsanne, Roussanne, Viognier and Grenache Noir (blanc) from the ten year old Love Ranch located in the Coarsegold, California foothills. It readily displays expressions of spice, wet stones and a herbal perfume with bright lingering flavors and a slightly brazen countenance.

Farview Farm 2009 Vineyard Point Blanc Lot 2 is scheduled for a February, 2011 release. $17
Point Noir is our new red Rhone style co-fermented field blend of Syrah, Mourvedre and Grenache Noir from the Love Ranch Vineyard in Coarsegold, California. Its heady perfume, very dark color and not overly ripe flavors make this first edition an ideal candidate for the cellar. Very limited quantities.
Farview Farm Vineyard 2009 Point Noir is scheduled for a February, 2011 release. $30
"It is without hyperbole and or exaggeration that I tell you Point Noir is without a doubt the best wine I have ever had the pleasure of tasting. You described it as bold and fruit forward. These are characteristics I like. As I'm sure you have noticed, subtlety is not a trait I exhibit in behavior or enjoy in flavor. With that it mind, I say "Well done!" on the Point Noir. I know that the Farview label is for one-off, experimental wines. However, I do think you have a true winner with that one and as such, letting this wine go away after one run would be quite a shame."


Jarrod Lyman, Media Director
Yosemite Sierra Visitors Bureau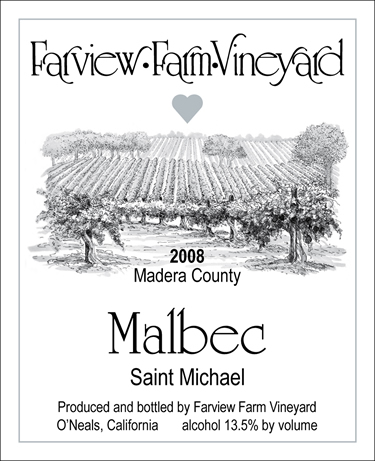 Malbec Saint Michael shows well the ripe plummy flavors of this increasingly popular dark red Bordeaux derived variety. The fruit actually came from a relatively young vineyard which was planted in Madera using cuttings from our own Fait Accompli vines. Full, fat and user friendly.
Farview Farm Vineyard 2008 Malbec Saint Michael is scheduled for a May, 2011 release. $22