JUDI'S JAUNTS - Hike to Chinese Ditch
by Judi Hussain
Looking for a hike that doesn't take you into Yosemite National Park, isn't too strenuous, accommodates your canine friends AND contains a waterfall and swimming hole? Chinese Ditch in Fish Camp could be your answer. This trek is excellent in spring and fall and quite refreshing in summer if there's sufficient water in the creek to go for a dip.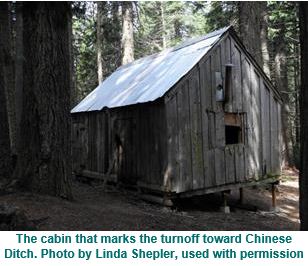 The area known as Chinese Ditch was constructed as a diversion of Big Creek tributary down to Lewis Creek to facilitate the transport of lumber from the Madera Sugar Pine Company to the finish mill in Madera. The name Chinese Ditch came from the Chinese laborers who dug the ditch. (Info from Favorite Hikes of the Sierra Hiking Seniors book by Jim Putman.)
From Visit Yosemite | Madera County in Oakhurst travel north on Highway 41 toward Yosemite's south entrance. At Jackson Road (just south of Tenaya Lodge) turn right. For a longer hike, park as soon as you're able. For a shorter hike, drive further up Jackson Road until you're ready to park. Make sure your vehicle is completely off the road.
If you do the hike from the Highway 41/Jackson Road turnoff, the round-trip distance is approximately 5 miles. The first two miles are on a forest road, with very easy hiking and a minimal elevation gain (250 feet). At .6 mile you pass the Yosemite Trails Saddle & Sleigh stables. In summer they offer one- and two-hour trail rides into the surrounding countryside. When Mariposa Grove reopens after its two-year closure for renovation, Yosemite Trails will resume trail rides into the Grove.

In spring the forested road/trail is dotted with dogwoods and other wildflower varieties. In fall emerge the brilliant autumn reds and golds. Summer temps can be steamy but the swimming hole at the end refreshes you for the return trip.
At two miles in, you'll spot an old cabin on the left, which marks the turnoff toward Chinese Ditch. From here you'll travel another half mile along a narrow embankment to the swimming hole. When the water is low enough, you can travel across the ditch intake to the other side of the creek and allegedly an even higher waterfall.
The broad, flat rocks in this area make for a dynamite lunch spot or a place to take a little sun bath or nap.

When you've had your fill of this wonderfulness, make your way back to your car and return to the real world.